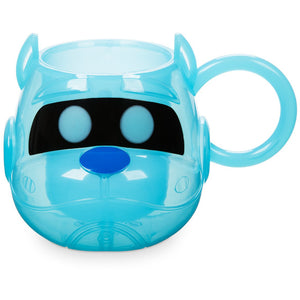 Disney Store A.R.F. Cup for Kids - Puppy Dog Pals
Disney Store A.R.F. Cup for Kids - Puppy Dog Pals
Description:
Introducing the Disney Store A.R.F. Cup for Kids, featuring adorable designs inspired by the lovable characters of Puppy Dog Pals. This cup is designed to bring joy and functionality to kids' mealtimes and adventures. Crafted with attention to detail and featuring the playful A.R.F. character, this cup is a delightful addition to any young Puppy Dog Pals fan's collection.

Product Features:
1. Whimsical Puppy Dog Pals Design: The Disney Store A.R.F. Cup for Kids showcases captivating artwork that captures the spirit of the beloved Puppy Dog Pals characters. A.R.F., the robotic dog, is prominently featured, making every sip a delightful experience for young fans.
2. Kid-Friendly Size and Shape: Designed with young hands in mind, this cup has a size and shape that's comfortable for kids to hold and use. The lightweight and sturdy construction make it perfect for both home use and on-the-go adventures.
3. Durable Construction: Crafted from durable materials, this cup is built to withstand the energetic activities of kids. Its sturdy design ensures that it can accompany them through playtime, mealtime, and every fun-filled moment.
4. Easy-to-Hold Handle: The cup is equipped with an easy-to-grip handle that makes it effortless for kids to hold and drink from. The comfortable grip promotes independence and confidence during mealtime.
5. Secure Lid: The cup comes with a secure lid that prevents spills and leaks, making it an excellent choice for car rides, picnics, and other outings. The lid also helps keep drinks fresh and ready to enjoy.
6. Joyful Mealtime Companion: Whether used for water, juice, milk, or any favorite beverage, this cup adds a touch of magic to mealtime. The familiar characters from Puppy Dog Pals make every sip an adventure.
7. Perfect Gift: The Disney Store A.R.F. Cup for Kids is an ideal gift for young fans of Puppy Dog Pals. It's perfect for birthdays, holidays, or as a surprise to brighten a child's day.
8. BPA-Free and Child-Safe: The cup is crafted from BPA-free materials, ensuring that it's safe for kids to use. Parents can have peace of mind knowing their child's drinkware is free from harmful substances.

Let the Disney Store A.R.F. Cup for Kids bring excitement and joy to your little one's mealtimes. With its delightful Puppy Dog Pals design, durable construction, and kid-friendly features, this cup is a wonderful addition to any child's daily routine. Make every sip an adventure with A.R.F. and the lovable Puppy Dog Pals characters.