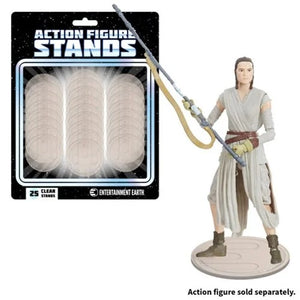 Action Figure Stands 25-Pack - Clear
Action Figure Stands 25-Pack - Clear
Give your action figures the support they deserve!
These round platforms look great and are transparent to blend in better with your shelves and dioramas.
Each measures 2 1/8-inches in diameter and features a peg that fits snugly into your figure's foot. Buy this 25-pack today and give your characters all the support they need and merit!
Action figures sold separately.
Stands fit most 3 3/4-inch Hasbro Star Wars (1995 - present), Hasbro Indiana Jones (2008), Hasbro G.I. Joe (2007 - present), Hasbro Marvel (2009 - present), and Playmates Star Trek (2009) action figures.


IMPORTANT!!!

We do not accept returns/refunds on all courier issues (dented, mishandled, no delivery, etc.). Plus, any flaws by factory/manufacturer.