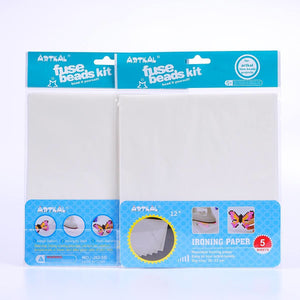 Artkal 5 Pieces Big Ironing Paper Set
---
---
Ironing is an important step to finishing an artwork. Bad ironing would undo all prior efforts. Artkal's half-transparent ironing paper allows you to make sure the beads are fusing smoothly in the process. Sleek-surfaced ironing papers are easy to tear out after the process is complete, protecting your artwork from any flaw.
Features:
Thin ironing paper with great heat conduction, helps the beads to fuse quickly.
Half-transparent ironing paper helps to observe the ironing process.
The characteristic of being sleek-surfaced protects the artwork from any possible flaw.
The durable and hard-to-tear ironing paper can be used multiple times before replacement.
The ironing process requires adults to assist and monitor, and should NOT be completed by children alone.