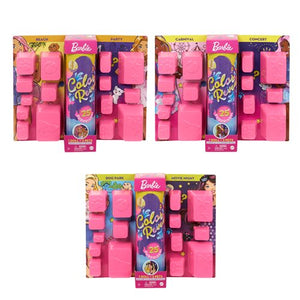 Barbie Ultimate Color Reveal Doll and Accessories
---
---
Barbie Ultimate Color Reveal Doll and Accessories 
These Barbie Color Reveal dolls deliver the ultimate unboxing experience -- 25 surprises, eight repeat color-change features, two pets, two outfits, and a Barbie doll to play out day-to-night transformations over and over again! Which doll will you reveal? Find fun transformative themes like the beach to party, carnival to a concert, and a dog park to movie night with lots of pieces for lots of play. The packaging is part of the fun -- remove the 15 mystery bags, with their hidden contents, through the back panels; then remove the center tube and pull the strip to remove its outer layer. Inside is a clear tube containing a mystery metallic golden Color Reveal doll. Fill the tube with warm water, then insert the doll and swirl her around. The water turns golden, and when the doll is pulled out, her features are revealed! Each doll has a different combination of eye color, hair color, skin tone, and decorated leotard. Open the 15 bags to discover clothing and accessories for two complete looks, including two color-change long-haired wigs, a small sponge, and two Color Reveal pets! With so many surprises and so many pieces, kids will have so many stories to tell. Which doll will you reveal? Kids can collect them to mix and match accessories and expand the possibilities!
Please note: Item selection is random. Items are in blind packaging. We cannot accept requests for specific items, nor can we accept returns on opened items. You may receive duplicates.

Please note: This item may have variants randomly inserted throughout the production run. We cannot accept requests for specific variants, nor can we accept returns on opened items. The item you receive may be different from the one pictured.