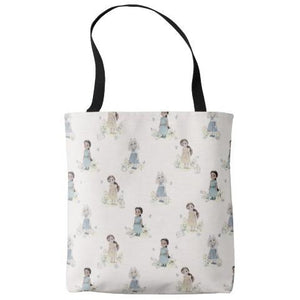 Disney's Animators Tote Cinderella, Jasmine, Belle - Pattern Bag
---
---
Product: Disney's Animators Tote
Description: Elevate your shopping experience with the Disney's Animators Tote, a modern take on the classic tote bag. This shoulder tote is designed for both style and functionality, making it an ideal companion for your daily activities. With its eye-catching all-over-print design, this tote adds a touch of personalization and flair to your ensemble.
Product Features:
All-Over Print: The Disney's Animators Tote features a captivating all-over-print design that sets it apart from traditional tote bags. This unique feature allows for 100% customization, giving you the opportunity to showcase your personal style.
Earth-Friendly Choice: This tote contributes to a more eco-friendly lifestyle by providing a reusable alternative to single-use bags. Carry your essentials in style while reducing your environmental impact.
Modern Dimensions: With a size of 16" in length and 16" in width, this tote offers ample space to accommodate your belongings. The shoulder strap measures 28" in length, providing comfortable carrying options.
Premium Material: The exterior of the tote is crafted from 100% sturdy brushed polyester, ensuring durability and longevity. The interior boasts 100% polyester nonwoven laminate, and the tote features 100% cotton web handles for easy carrying.
Edge-to-Edge Designs: The tote is printed with edge-to-edge designs, resulting in a seamless and visually striking appearance. The vibrant print enhances the overall aesthetics of the bag.
Reinforced Lining: The interior of the tote features a black laminated lining, adding extra support to the bag's structure. This ensures that the tote remains sturdy and reliable during everyday use.
Care Instructions: To maintain the pristine condition of the tote, spot cleaning or dry cleaning is recommended. This helps preserve the vibrant colors and integrity of the design.
Made in the USA: The Disney's Animators Tote is proudly made in the USA, reflecting a commitment to quality and craftsmanship.
Whether you're headed to the grocery store, running errands, or simply adding a touch of style to your outfit, the Disney's Animators Tote offers a blend of fashion and practicality. Elevate your accessories collection with this modern tote that effortlessly combines customization and convenience.