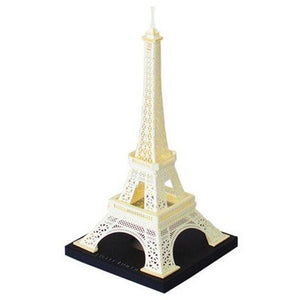 Eiffel Tower Paper Nano Model Kit
---
---
Eiffel Tower Paper Nano Model Kit
The Eiffel Tower is a wrought iron lattice tower on the Champ de Mars in Paris, France, named after engineer Gustave Eiffel, whose company designed and built the tower. Constructed from 1887-89 as the entrance to the 1889 World's Fair, it stands 1,063-feet tall (about the height as an 81-story building) and is the tallest structure in Paris. It's the most-visited paid monument in the world.
Take your papercrafting to the next level with this Eiffel Tower Paper Nano Model Kit! Laser-cutting technology allows you to build the world-famous structure in more detail than ever before, and it's the perfect display piece to show off your papercrafting skills! Detailed color instructions and a folded display case included. Ages 12 and up.

Paper Nano models are made of laser-cut paper. Carefully punch each piece out of the labeled cards. Then curl, fold, and attach with tabs or glue as instructed. Be patient and have a steady hand! Suggested tools for the build include tweezers and an X-Acto knife. Keep some clear-drying glue on hand, and possibly a toothpick for application. Includes pictorial build instructions. Tools and glue not included.