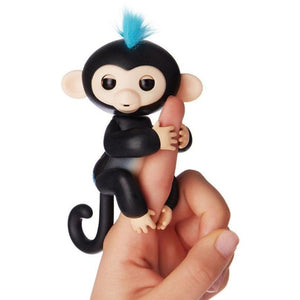 Fingerlings Original Monkey - Finn
---
---
Finn is my name and I swing to the beat of my own drum!
Black
The fingerlings that started all fingerlings evolution.The original 6 monkeys. All Fingerlings pets responds to you if you pet, rock to sleep, or hold upside down.  If you blow a kiss, he will kiss you right back! 
Fingerlings are baby animals that cling to a child's finger, make cute noises and and react to sound, motion and touch.
They come in a variety of colors - Adopt them all and have even more fun monkeying around! (each sold separately). Clap your hands twice and your Fingerlings will sing together - Collect them all!"
Batteries: 1 LR44 battery is required (included)
Product Weight: 0.36 pounds
Product Dimensions (in inches): 5.50 x 7.40 x 2.40