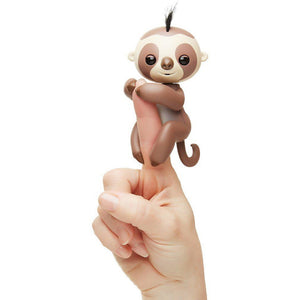 Fingerlings Sloth - Kingsley
Kingsley is my name... Slow and Silly is my claim to fame
Brown 
This pet responds to you with sloth sounds if you pet, rock to sleep, or hold upside down.  If you blow a kiss, he will kiss you right back! Slow and steady wins your heart!
Fingerlings are baby animals that cling to a child's finger, make cute noises and and react to sound, motion and touch.
They come in a variety of colors - Adopt them all and have even more fun slothering around!
Packaging Dimensions (in centimetres) 15.0x 5.8 x 22.5
Battery Details 4 x Button Cell (included)
Unit Weight(Kg) 0.18