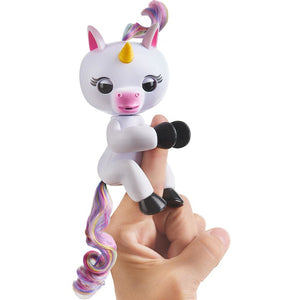 Fingerlings Unicorn - Gigi
---
---
Gigi is my name and I love chasing rainbows!
White
This pet responds to you with unicorn sounds if you pet her, rock her to sleep, or hold her upside down.  If you blow her a kiss, she will kiss you right back! You can also brush her soft rainbow mane and tail, and she has a tiny horseshoe on her rump.  Magical friendship at your fingertips!
Fingerlings have two special sensors on top of their heads. Tap once or twice on either side to trigger a variety of different reactions! 
Fingerlings are baby animals that cling to a child's finger, make cute noises and and react to sound, motion and touch.
They come in a variety of colors - Adopt them all and have even more fun unicorning around!
Packaging Dimensions (in centimetres) 15.0x 6.0 x 22.5
Battery Details 4 x Button Cell (included)
Unit Weight(Kg) 0.2