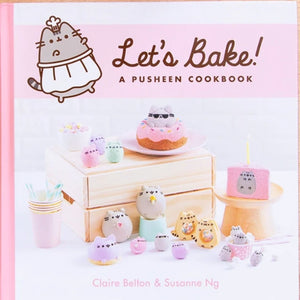 Let's Bake! A Pusheen Cookbook - Pusheen Shop
Let's Bake! A Pusheen Cookbook - Pusheen Shop
Indulge in the joy of baking with your favorite feline friend, Pusheen, with the "Let's Bake! A Pusheen Cookbook." This delightful hardcover cookbook is a must-have for Pusheen enthusiasts and baking enthusiasts alike. Inside, you'll find a collection of 40 delectable recipes across 160 pages, all featuring Pusheen's charming and whimsical touch.
Highlights:
40 Delicious Recipes: Explore a variety of mouthwatering recipes, each adorned with Pusheen's adorable illustrations.

Hardcover Design: The cookbook comes in a durable hardcover format, ensuring it stays in great condition for years to come.

Compact Size: Measuring approximately 7.5" x 7.5", it's the perfect size for easy handling and storage.

Language: The cookbook is presented in English.

Publisher: Published by Gallery Books, known for quality publications.
Unleash your inner baker and create delightful treats with the playful guidance of Pusheen. Whether you're a seasoned baker or just starting, this cookbook adds a sprinkle of joy to your culinary adventures.