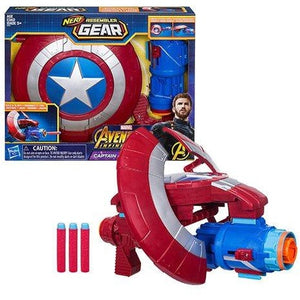 Marvel Avengers Infinity War Nerf Captain America Assembler Gear
Marvel Avengers Infinity War Nerf Captain America Assembler Gear
Get ready to build and blast like the First Avenger with Captain America Assembler Gear! Collect, combine, and customize! With Avengers Assembler Gear featuring Nerf technology, kids can assemble their ultimate blaster and imagine taking down the bad guys!
Each Assembler Gear set features different blaster combinations and can be combined with other Assembler
Gear sets (each set sold separately) to build customizable blasters and get ready to blast into action! With over 100 combinations of blasters with multiple sets (each set sold separately), the only question is: what will you assemble?
Includes shield, 2 connectors, 3 darts, and instructions.