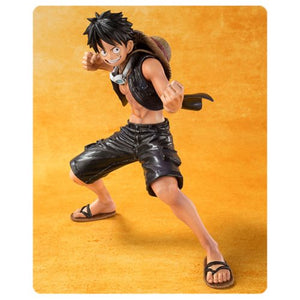 One Piece Film Gold Monkey D. Luffy Figuarts ZERO Statue
One Piece Film Gold Monkey D. Luffy Figuarts ZERO Statue
Celebrate the adventurous spirit of Monkey D. Luffy from "One Piece Film Gold" with this highly detailed Figuarts ZERO statue. This collectible captures Luffy in a dynamic and action-packed pose, ready to take on any challenge that comes his way.
Product Features:
Film-Inspired Design: This Figuarts ZERO statue is meticulously crafted to replicate Luffy's appearance from "One Piece Film Gold," complete with his signature straw hat, determined expression, and detailed outfit.

Dynamic Pose: Luffy is depicted in an exciting and dynamic pose, showcasing his fearless and determined personality. It's a perfect representation of his adventurous spirit.

Intricate Detailing: The statue features intricate detailing on Luffy's clothing, accessories, and facial expression, bringing the character to life.

High-Quality Materials: Made from high-quality materials, this statue is built to last and maintain its vibrant colors and details over time.

Display Stand: It comes with a display stand that not only provides stability but also enhances the overall presentation.

Perfect Size: Standing at an ideal size, this statue can be displayed on your shelf, desk, or in a collector's cabinet, making it a fantastic addition to any "One Piece" collection.

Officially Licensed: Officially licensed by Bandai and inspired by "One Piece Film Gold," ensuring authenticity and quality.

For "One Piece" Enthusiasts: A must-have for fans of the "One Piece" series, Luffy admirers, and collectors of anime and manga memorabilia.
The One Piece Film Gold Monkey D. Luffy Figuarts ZERO Statue is a remarkable collectible that captures the essence of this beloved character. Whether you're a devoted "One Piece" fan or a collector of finely crafted anime statues, this Luffy statue is a fantastic choice to display and cherish. Bring the adventurous world of "One Piece" to life with this dynamic and detailed statue.