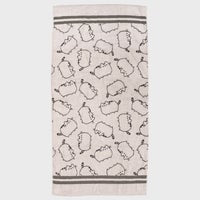 Pusheen Bath Towel - Pusheen Shop
Pusheen Bath Towel - Pusheen Shop
Indulge in cozy comfort and adorable style with the Pusheen Bath Towel from the Pusheen Shop. This generously sized bath towel features the beloved Pusheen character and is perfect for drying off after a bath, shower, or a day at the beach.
Highlights:
Charming Design: The bath towel showcases a delightful Pusheen design that adds a touch of whimsy to your bath time routine.

Generous Size: With ample dimensions, this bath towel provides full-body coverage and is highly absorbent.

High-Quality Material: Made from soft and durable materials, it offers plush comfort and lasting quality.

Versatile Use: Suitable for use at home, the pool, or the beach, making it a versatile addition to your bath linen collection.

Officially Licensed: An officially licensed Pusheen product, ensuring authenticity and quality.

Collectible: Perfect for Pusheen enthusiasts who want to incorporate their favorite character into their daily life.
Wrap yourself in the cuteness and comfort of Pusheen with this bath towel from the Pusheen Shop. Whether it's for yourself or as a gift, it's a must-have for fans of this lovable cat.