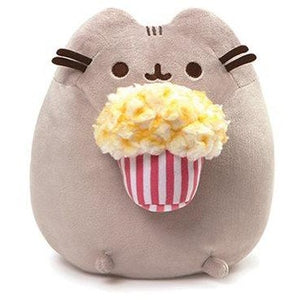 Pusheen the Cat Pusheen Popcorn 9 1/2-Inch Plush PRE-ORDER
---
---
Pusheen the Cat Pusheen Popcorn 9 1/2-Inch Plush

Gund is proud to present Pusheen - a chubby gray tabby cat that loves cuddles, snacks, and dress-up. As a popular web comic, Pusheen brings brightness and chuckles to millions of followers in her rapidly growing online fan base.
This Pusheen the Cat Pusheen Popcorn 9 1/2-Inch Plush version of Pusheen has her ready to enjoy a movie with an overflowing bucket of yummy buttered popcorn! Surface-washable for easy cleaning.
Measures about 9 1/2 inches tall x 8 inches long x 7 1/2 inches wide.
Ages 1 and up..
PRE-ORDER GUIDELINES
Pre-order timeline: 7 working days
Payment: Will be processed via PayMongo
Reminder: Be patient: Pre-orders often take longer to fulfill than regular orders, so be prepared to wait. If you have any questions or concerns about the pre-order status, don't hesitate to reach out to us.
Cancellation policy: Please note that we do not allow cancellations once an order has been placed, so please ensure that you are certain about your purchase before clicking the buy button.
Fulfillment: We use J&T Express, but you may opt to use same-day delivery service
Refund policy: We will issue a refund if our supplier runs out of stock.
Thank you for reading the guidelines.