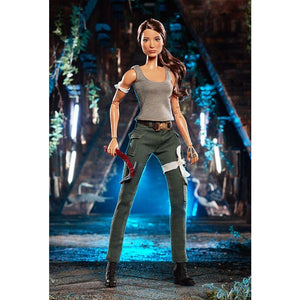 Tomb Raider Barbie® Doll
---
---
Tomb Raider Barbie® Doll
Lara Croft is a fictional character and the main protagonist of the Square Enix (previously Eidos Interactive) video game franchise Tomb Raider. She is presented as a highly intelligent, athletic, and beautiful English archaeologist who ventures into ancient tombs and hazardous ruins around the world. Created by a team at British developer Core Design that included Toby Gard, the character first appeared in the video game Tomb Raider in 1996.
Doll Designer: Bill Greening
Label: Black
Body Type: Articulated
Facial sculpt: Lara Croft
Fashion: Top, pants, boots
Fashion Sewn On: No
Accessories: Climbing ax, journal
Doll Stand: Yes
Package Dimensions (H/D/W): 13" x 3"x7"
TOMB RAIDER © 2018 Warner Bros. Entertainment Inc. and Metro-Goldwyn-Mayer Pictures Inc. TOMB RAIDER and LARA CROFT are trademarks of Square Enix Ltd. All Rights Reserved.