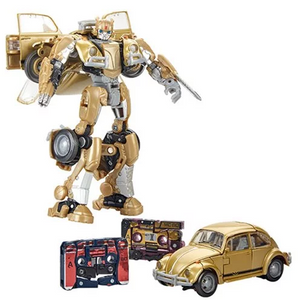 Transformers Studio Series Deluxe Bumblebee with G1 Tapes
Transformers Studio Series Deluxe Bumblebee with G1 Tapes
Your very own Bumblebee!
Exclusive special edition Autobot Transformer.
Inspired by the 2018 Bumblebee movie.
Includes 2 transforming dino-cassette figures, plus 7 accessories!

Studio Series presents Vol. 2 of a sweet exclusive series. Packed with retro radness, this amazing Transformers Studio Series 20 Bumblebee Vol. 2 Retro Pop Highway - Exclusive features a bodacious special edition Bumblebee gold VW Beetle figure with 2 transforming dino-cassette figures - Zauru and Uriad (the evil twin of Dairu) - remixed from a 1980s Japan-only release.
This is a celebration of the 2018 Bumblebee movie and the awesomeness of turning up the tunes as you're cruisin' along in your righteous ride… especially if that ride is a VW Bug with special deco like this one!
Bumblebee converts from robot mode to vehicle in 22 steps and comes with 7 accessories and instructions. Ages 8 and up.